Tonight on Canale 5 at 9:45 pm Freud's fault is back, the TV series created by Paolo Genovese, with Claudio Bisio, Claudia Pandolfi and Max Tortora: the previews of the last two episodes.
Come back for the last time tonight on Canale 5, around 21:45, All Freud's fault, the TV series created by Paolo Genovese (inspired by his 2014 film of the same name) with Claudio Bisio, Claudia Pandolfi and Max Tortora.
As the advances of the last two episodes, Claudio unexpectedly confesses to Emma that he is in love with her. Riccardo, oppressed by feelings of guilt, lies once again to Marta, and causes a disaster. Sara, after having undertaken the practices of separation, makes an unexpected discovery. Chiara breaks up with Matteo, too elusive because of his problems, while Francesco realizes that he really feels something for Anna: will he have the courage to reveal his feelings to her? It is now clear that the therapy cannot continue in this way: he tries to invite the beautiful psychiatrist to dinner and is anxiously awaiting an answer. And when the girls also seem to have solved their heart problems and Matteo have untied the knots with Chiara, the unexpected arrival of a character who seemed to be in the background and an accident overturn the cards on the table …
The synopsis
The psychoanalyst Francesco Taramelli (Claudio Bisio), thinks he can finally dedicate himself to himself, after having looked after his three daughters for years who now seem independent. Major Marta (Marta Gastini) 27 years old, is a brilliant PhD student in Archeology; 25-year-old Sara (Caterina Shulha), is about to marry Filippo (Valerio Morigi) and works in the luxury hotel of her future in-laws; finally 18 year old Emma (Demetra Bellina) is about to move to London to perfect her English.
Francesco's wife, Angelica Delony (Magdalena Grochowska), left her family when Emma was born to follow the environmental campaigns of an NGO as an activist. Thus Francesco found himself acting as father and mother to his three girls and it was not easy to find a balance.
One person who has always remained close to him is Matteo De Tommasi (Massimiliano Tortora), a former Roman taxi driver who has worked as a professional driver in Milan; despite the difference in extraction he is the dearest friend, so much so that for the daughters he is almost an uncle.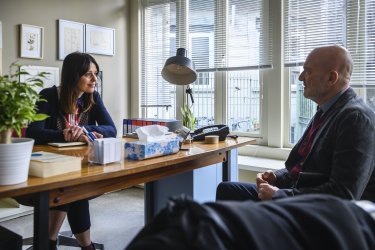 All Freud's fault: Claudia Pandolfi and Claudio Bisio in one scene
Although it was not easy to raise three girls all alone, Francesco, who dotes on his daughters, thinks he has done a really good job. He has always encouraged them to pursue dreams and ambitions respecting their individualities and never imposing their point of view on things. He is therefore convinced that he has solicited the autonomy and independence of all, since Emma is also ready to take flight, but she may have to change her mind …
When Francesco has an illness, believing it to be a heart attack, he goes to the emergency room where Anna Cafini (Claudia Pandolfi) the psychiatrist on duty explains to him that in reality it is a panic attack. Could the cause be found in the empty nest syndrome?