How it ends Astrological Guide for Broken Hearts
How does the astrological guide for broken hearts end? The first season of the series starring Claudia Gusmano and Lorenzo Adorni ends with the episode entitled "Vergine". Here's everything that happens in the Season 1 finale.
ATTENTION: what follows is the full explanation of the finale of the first season from Astrological guide for broken hearts and includes big ones spoiler about everything that happens. If you haven't finished watching yet of the first season or you do not want to spoil the surprises, we advise you not to continue reading. If you want to find out how it ends Astrological guide for broken hearts, here you will find the full storyline.
In the season finale, Carlo (Alberto Paradossi) chases Alice (Claudia Gusmano) who tries to sow him on his bike but has the gearbox locked. She doesn't care what he has to say: "Sonia doesn't mean anything" Carlo tries to explain to her, who justifies himself by saying that he was involved with one of his former students in the cinema course. After attempting to blame Alice for her absence ("I wish I could have told you sooner"), Carlo is finally dumped in the middle of the street by Alice.
read on after the ad
Enrico (Fausto Sciarappa) reveals to Alice that things with Elvira are over, and that it was he who resigned to Davide Sardi (Michele Rosiello), who has already found him a part-time job in a radio. Alice, who was convinced she was the cause of Enrico's dismissal, sees her boss in a new light. "I have to apologize"Alice says to Davide. Between the two it seems peace has been made, but Alice aims to regain possession of the company smartphone previously used by Enrico.
Cristina (Lucrezia Bertini) takes Alice aside: she wants to know if Carlo is having second thoughts about their future together, between the baby on the way and the upcoming wedding. Alice reassures her and Cristina appreciates the gesture of comfort he has reserved for her. The production manager bites her tongue: she would like to tell the truth about Carlo's betrayal but she is interrupted. Meanwhile, a Tio (Lorenzo Adorni) confesses he has a soft spot for Davide Sardi. Even the friend has something to share, on the sentimental front: Alice misunderstands his words, which are actually addressed Andrea (Alberto Malachino), and thinks that Tio has a soft spot for her.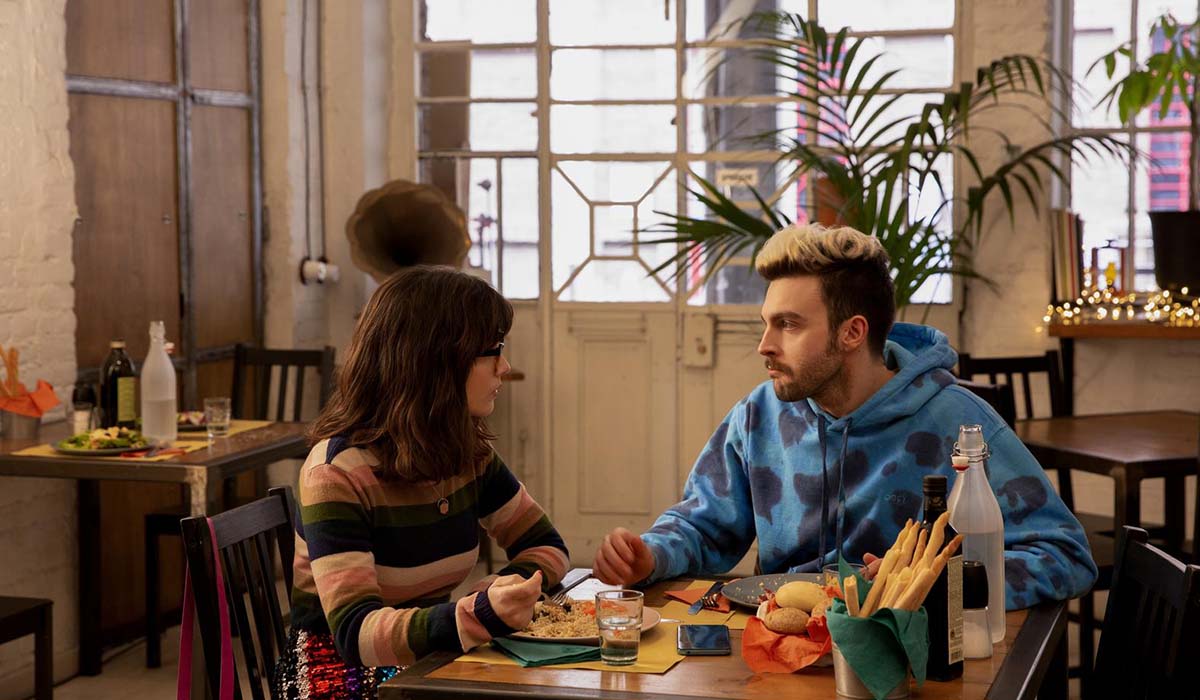 From left: Alice (Claudia Gusmano) and Tio (Lorenzo Adorni) in a scene from "Astrological guide for broken hearts". Credits: Netflix.
Meantime Davide Sardi he enjoys listening to the voice messages in which Alice shoots zero on him. Paola (Esther Elisha), meanwhile, collects the confession of her best friend: Alice has a crush on Davide, there is nothing to do, but Paola puts the flea in her ear about the possible crush that Tio may have for her. Better than getting mad at the boss!
read on after the ad
Later, Sardi and Alice find themselves alone in the production studios. "If people knew how many complications there are behind all the romantic scenes," says Davide. "I don't think he would like to know"Alice replies. The two exchange a long complicit glance, and then kiss passionately. Their long-awaited meeting is interrupted: Alice is summoned in the presence of Barbara Buchneim-Wessler Ricci Pastori (Euridice Axen), the producer of her show. "Do not run away"Alice says to Davide with the promise to meet again after the episode.
Meanwhile, Cristina is desperate: she has the feeling that Carlo has someone else. Alice decides to console her rather than tell her the truth: it would be too painful for her to face it. "Don't make me regret having repented"He tells Carlo when he urges him to go and raise the fortunes of his family. Before finally reaching Davide, Alice has another stop to make: Tio! The latter finds it hilarious that Alice may have believed it. "Navigate calmly, my friend"Is the advice that Alice offers to his friend Tio before the latter reaches Andrea to kiss him.
Reached Davide at the appointment, Alice catches him kissing Barbara. By dropping the case, Alice inadvertently alerts Davide of his presence: Sardi now knows that Alice has seen him kissing with Barbara. Alice runs away, getting lost in the streets of Turin: the profile of the Mole Antonelliana stands out against the sky as she watches Alice's fate become complicated and, once again, take winding roads on her way to happiness.