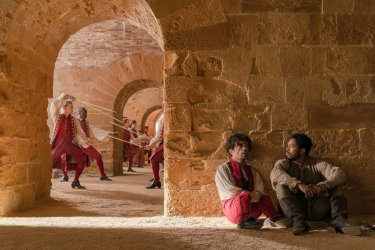 Cyrano: Kelvin Harrison Jr e Peter Dinklage
It will arrive in Italian cinemas in January Cyrano, the new project by British director Joe Wright: a musical reworking of the famous Cyrano de Bergerac by Edmond Rostand, with Peter Dinklage, Haley Bennett, Kelvin Harrison Jr and Ben Mendelsohn in the main roles. Based on the theatrical adaptation made in 2018 by playwright Erica Schmidt and shot mainly in Sicily, just in the period following the start of the pandemic, Cyrano was one of the titles presented at the Rome Film Fest 2021: a national preview accompanied by the presence at the Auditorium of Joe Wright and the American actress Haley Bennett, Wright's partner since 2018 and here committed to lending face and voice to the character of Roxanne.
An image of Joe Wright
But Cyrano's press conference was also attended by Bryce Dessner, who composed the soundtrack of the film along with two other members of the Nationals (Aaron Dessner and Matt Berninger), co-producer Guy Heeley, Italian costume designer Massimo Cantini Parrini and the amazing protagonist, Peter Dinklage, the latter in video link from Atlanta, where he is currently shooting the film Brothers. So here's what they told us Joe Wright, director of Atonement and Darkest Hour, and his team about this engaging musical that we will be hearing a lot about during the upcoming awards season.
Joe Wright's Cyrano, from the stage to Etna
Joe Wright, what prompted you to compare yourself with a literary classic such as Cyrano de Bergerac?
Joe Wright: It was Haley Bennett, she invited me to see the production in which she participated in the theater, made by Erica Schmidt. I have always loved the story of Cyrano de Bergerac and I have felt a strong affinity with the protagonist, like any teenager who feels out of place. At the time of shooting the film I wanted to see Peter Dinklage and Haley Bennett act side by side and, at the same time, propose a new and illuminating version of this work.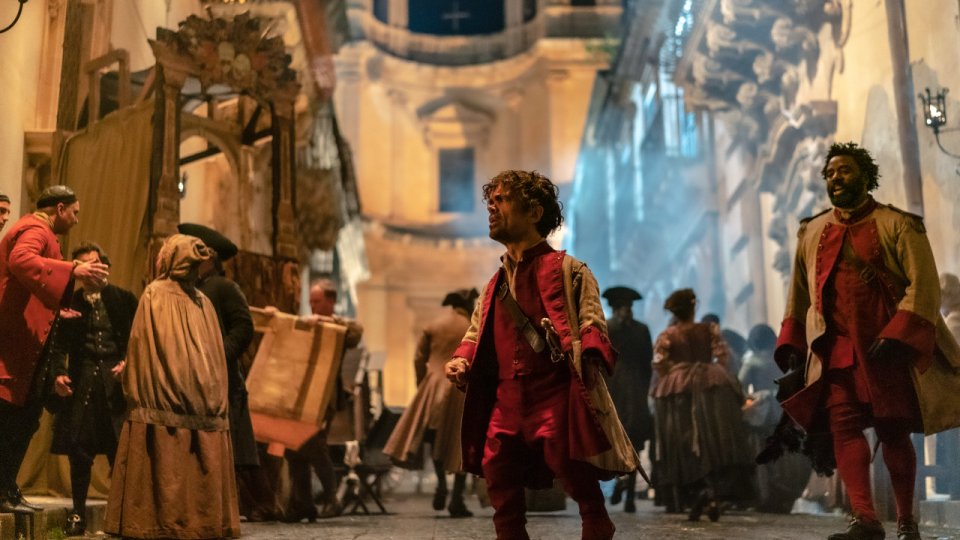 Cyrano: an image by Peter Dinklage
What convinced you to hire them as protagonists?
Joe Wright: They actually chose me, not the other way around: I asked Haley to talk to Erica and she agreed. Furthermore, I think that Peter Dinklage's personal experience has contributed a lot to impart a sense of authenticity to his role and to evoke extraordinary pathos. And the chemistry between him and Haley Bennett is exceptional; Haley provides a much more passionate version of Roxanne than we have seen in the past.
How did you find yourself shooting the film in Sicily?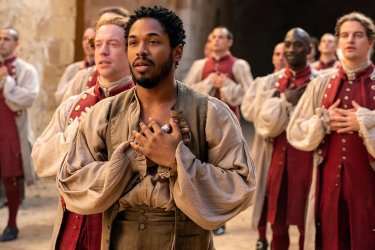 Cyrano: an image of Kelvin Harrison Jr
Joe Wright: I have a very long love relationship with Italian cinema, for me yours is the most beautiful cinema in history! My father's favorite film is Bicycle Thieves, Federico Fellini is my hero, but also Michelangelo Antonioni, Luchino Visconti and contemporary directors like Paolo Sorrentino. Italian cinema expresses a richness of life that does not exist in any other type of cinema. So I always looked for an opportunity to work in Italy, and when it happened for Cyrano we were in the middle of the lockdown. It was a crazy idea to shoot the film during the pandemic and we looked for a way to limit the risk of contagion: so shooting on an island, without too many tourists, seemed like a good idea. But the most important thing is that I wanted to create a kind of fantastic scenery with respect to time and space: Rostand's original work is set in 1640, but I wanted a dream place, and Sicily seemed to me the most romantic place. possible. And then of course there is Etna, where we shot the battle scene: one of the craziest choices of my career! A very reliable source told us that on Etna it would not snow before February, and instead in December, a week before the shooting, it started snowing. And then, on the last day, the volcano erupted! I suspect the Etna Goddess wanted us to get out of the way!
Haley Bennett: I remember I was on a plane to visit Mount Etna one evening: I was very excited because it was a spectacular view, when I saw a large ball of light in the sky. It looked like the moon, but a big red moon, like a blood moon, and those who accompanied me said to me: "That's Mount Etna, and it's erupting!". Nobody warned me that you were shooting those scenes on an active volcano!
Rome Film Fest 2021: The 10 films (and TV series) we are looking forward to the most
The performers, costumes and songs of the film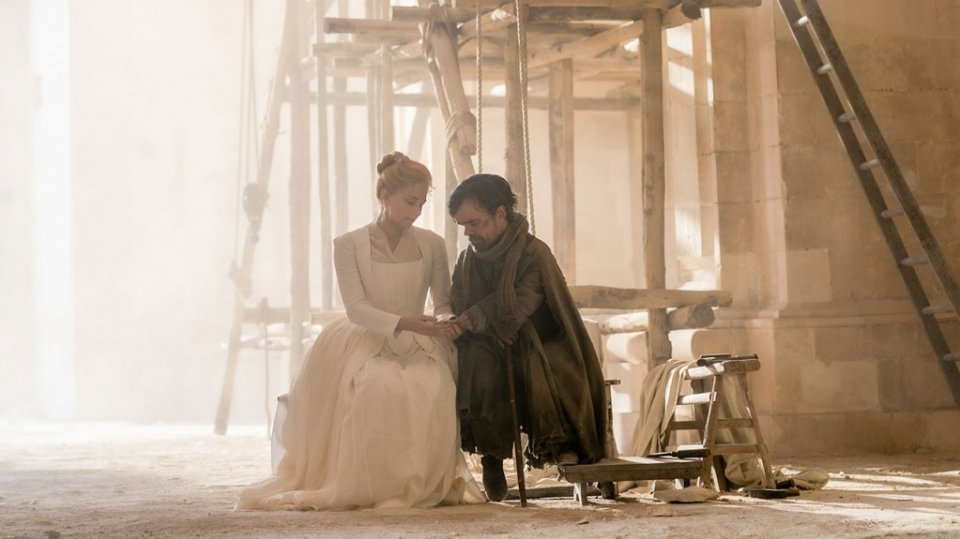 Cyrano: Haley Bennett e Peter Dinklage
How did your great complicity on set come about and how did it help you explore your characters?
Peter Dinklage: Haley and I had already known each other from the theatrical production, so at the time of filming there was already an alchemy between us and there was already a friendship. Sometimes you arrive on a set, you meet another actor and you have to immediately shoot a scene with him, so you have to 'act out' this alchemy; but Haley and I had the advantage of knowing each other and sharing a strong sense of irony.
Haley Bennett: Cyrano is Erica's creature: she made the theatrical production, she asked me to play her and allowed me to make the character my own. Since then, in the course of these five years, the lives of all of us have changed together: it has been a long journey that we have shared, exploring these characters and allowing ourselves to make mistakes. During this work, Peter and I were always there for each other, in a very spontaneous, beautiful and human way.
Peter Dinklage: This was also helpful in developing the characters, because Cyrano and Roxanne are first and foremost great friends, even before they are lovers. Of course, with love and marriage, the one you love should also be your best friend.
Massimo, what can you tell us about your contribution to the costumes of the film?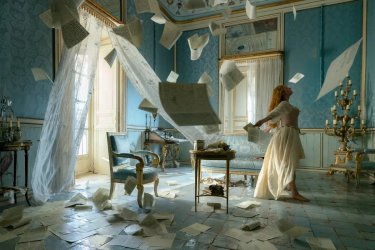 Cyrano: an image of Haley Bennett
Massimo Cantini Parrini: When I was called for this movie I couldn't believe it, it was a dream! Joe was immediately understanding, also because I was called only a month before shooting and I had huge problems with the orders of the fabrics: kilometers and kilometers of fabrics that never arrived because they had closed the borders. But the beauty of working with Joe was the extreme freedom: I don't like pompous costumes, I think it's more important to get to the soul of things. Joe helped me with some wonderful ideas, and the inspiration came from visiting various museums and observing the watercolors: it occurred to me to make everything light and transparent, also to give a more modern impact to the costumes. Of the eighteenth century only the essence of the time remains: we preferred clothes that were not historically realistic, because in any case we were dealing with a musical. I saw the movie last night for the first time and I still haven't recovered from Joe's perfection: he was a wonderful puppeteer and I'm happy and proud that he trusted me!
Bryce Dessner, what was your approach to composing the music for the film?
Bryce Dessner: The songs emerged from our conversations with Erica Schmidt, who wrote the screenplay for the film and directed the theatrical production. The idea was to turn the long verse monologues of the original drama into songs. They are not typical Broadway show songs – they are songs that are part of the poetic atmosphere of the film, and we wanted the soundtrack to be part of this universe as well. Usually you get hired for a soundtrack after the film has already been shot, while with Joe we worked extensively on the music before filming began: it was one of the most intense collaborations of my career.
Peter Dinklage and his Cyrano, hero of yesterday and today
Peter Dinklage, how close do you feel to a character like Cyrano?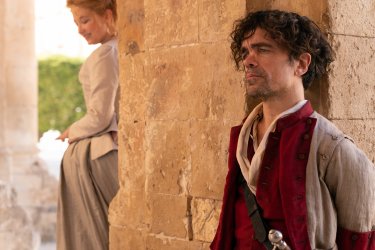 Cyrano: an image by Peter Dinklage
Peter Dinklage: Literary masterpieces written centuries ago are classics because they are still relevant today. Anton Chekhov is my favorite writer: you can stage it after centuries and he continues to tell us about the human condition, and the same goes for the work of Edmond Rostand. We all, like Cyrano, hide behind different versions of ourselves, and love letters allow Cyrano to hide behind Christian. It's still a relevant story when we think about our online identities, which don't really match ourselves. Today we no longer call each other, but we send messages, emails and our best photos: it is a version of ourselves that we want to present to the world, and online there are also those who hide behind other people's identities. In short, Cyrano de Bergerac is more relevant today than ever.
How does the way of expressing feelings change in the film?
Peter Dinklage: Cyrano wrote very long letters, but in the film these letters were brilliantly turned into songs. Today, people would struggle to attend a four-hour staging by Cyrano de Bergerac: the theatrical experience is no longer like it used to be, there are even those who look at their mobile phones. The intent of this production was to keep the soul of the original work, but to enclose it in a space of two hours for today's audience, and this was facilitated by the use of songs: singing of love is much more beautiful than talking. love.
Haley Bennett: For example like Adele's new song, Easy on Me … have you heard it? Music goes straight to the heart!
Peter Dinklage: And monologues don't quite work in the cinema as they do in the theater. The rhythm of the songs corresponds to the beats of the heart, and it is as if the whole story was crossed by a rhythm that never stops.
Do you think that Cyrano's character is also current with respect to the theme of body shaming?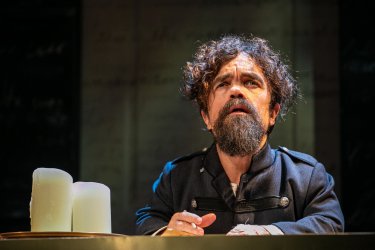 Peter Dinklage in the role of Cyrano in the theater
Peter Dinklage: It's not about how others see us, but how we see ourselves: body shaming starts with us and how we perceive ourselves. No one is completely comfortable in their body, at least not at any time of the day. And everyone has a camera to remind us: today we are much more aware of appearance than in the past. This is why I think that Cyrano's character is universal, that he can speak to everyone: not only to those who feel physically different, but to anyone who feels insecure or thinks they don't deserve to be loved.